Professional Wasp Control Services Brisbane
So you are annoyed by wasps in your home! You are in constant fear of them harming you? Do not worry as you have stepped upon the right platform. Wasps are very vital for society and the planet as per the latest research but having them around you all the time can cause some serious trouble. There is no need to worry now, our professional Bee Wasp Removal Brisbane experts know how to handle them well.
Goode Pest Control Brisbane is famous for its efficient and harmless wasp removal services. We use safe chemicals and methods that do not harm you or the wasps. We aim to remove them and relocate them to another place so as not to cause any trouble to the wasps or their nest. So what are you waiting for? Give us a call now at 0488 851 508 and get ready to make your house and property wasp-free.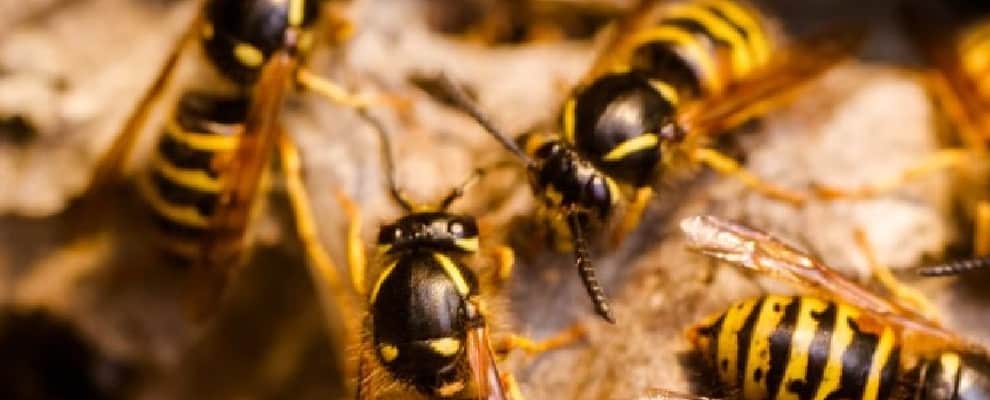 Some Of The Major Wasps Species In Brisbane
Brisbane is home to a wide variety of wasps and bees. Let us now know some of the most common and major wasp species in QLD.
European Wasp– This may sound European but is very Australian. European wasps love to roam about their nest and do not interfere with humans and other animals. Although, they can attack you any moment they feel that you are a threat. The worst part of this is that they sting multiple times in the same area causing a lot of pain.
Paper Wasp– Paper wasps are named such because of their nests. They use fibres from dead wood and mix them with their saliva and make their nests which appear to be very papery in texture. They are thinner than a normal wasp and their sting can cause swelling, and pain triggering allergies. You can get help from the best Bee Wasp Removal Brisbane experts to help you remove paper wasps.
Hornets– Well, the hornets are a wasp similar to European wasps but they have more colour patterns. A hornet is bigger than a paper wasp but can be very dangerous if you accidentally go close to its nest. All hornets in the nest can attack if they feel triggered by their presence. It is better to leave it alone if you see one.
Mud Dauber Wasp– As the name correctly indicates, these wasps rely on mud to build their nest, unlike the other wasps. They look a bit deadly also as they have very thin bodies with black or yellow colour. If you are not comfortable having them around you, you can contact the best wasp control Brisbane experts for the job.
Different Types of Bees To Remove From Premise By Professional Assistance 
If you want to take professional bees and bee hive removal services, then you must know about different types of bees. Here we are listing some common kinds of bees in the surroundings:
Honey Bee (Apis mellifera): Honey bees are half-inch long honey brown and hairy insects. Most often people get confused about honey bees with yellow jackets. These insects live in larger colonies, where more than 50000 bees infest at one time. The swarms are used to infest trees and houses.
Bumble Bee (Bombus spp.): The bumble bees are buzzing, yellow and black-striped insects, which are unmistakable. These are around ½ or 1 inch long, and inhabit nests and burrow under porches.
Carpenter Bee (Xylocopa Virginia): These bees are just like bumble bees, which have a black abdomen and shiny structure. The bumble bee has a fuzzy, yellow, and black abdomen. The male bee does not sting, which means they just bluff when it comes to defence.
Stingless Bees: These are not-so-dangerous bees, which used to live in tropical and subtropical regions. The nasty insects are harmless to humans and pets, but their removal is necessary.
Masked Bees: These bees are black and slender in colour. The insects can grow nearly 10mm long and are aggressive and allergic to humans and pets. Therefore, ensure to get them removed ASAP. Call the bee pest control service for the exact expected and required solutions.
How do The Professionals Manage With Bees Removal Services?
When it comes to removing bees from the surroundings, none could work better than calling professional bee control Brisbane and asking them to help. Rest is all our call to manage the bees' removal things appropriately. Rest read on to know how things will be managed accordingly for the removal. 
Inspection of the area of hives: The very first and most important thing to do is, to check on the area where the bees have infested and the hives were built. Inspection is the key to understanding how things should be done for the removal and the specific treatment which is required for the removal.
Removal of bees: It is time to execute the treatment and get rid of bees in the surroundings. The treatment will work accordingly and the use of the best chemicals and solutions will help in the removal of bees.
Removal of nests and bee hives: Now the experts will remove the bee hives; so that these nasty insects will not get infected once again. Otherwise, the existing bee hive allows the bees to come and infest again.
Destroy the nest and hive: If the hives are not in a state of removal, then professionals will use righteous and efficacious methods to damage and destroy the beehives.
Final Inspection: Once the professionals will get done with the inspection and treatment and removal process; now post-inspection is required to check whether something is left or not yet.
How Do The Bees Build Their BeeHives?
Worker honey bees make their hives to feed themselves and store honey in winter. Honey bee hives are made with six-sided tubes, which do not move out to collect and feed on food items. It brings optimal honey production because it requires less wax and also holds onto more and more honey. These wild bees are perfectly fine for their colonies and travel the stains. Call for the bee exterminator, who can easily deal with the infestation and get rid of bee hives immediately.
Same Day and Emergency Bees Removal Service In Brisbane
Bee pest control is very important because this is going to make you suffer a lot. You must know about their removal properly. We understand that you are worried about the bee infestation, but here we are to help you deal with the situation. Here the bee pest control service is going to deal with the problem immediately. You can contact us and get the same-day or emergency bee control Brisbane service ASAP. We are available with 24*7 hours support. You can call us anytime and anywhere properly. We are all time up to give you the same day or emergency service, and also to assist you if required advice and suggestions whenever you call us. 
What Are The Signs of Wasp Infestation?
So you are noticing a few wasp sights here and there in your home and you are suspecting a wasp infestation. Well, here are a few things you can do to ensure your doubt.
First, you must look for the flying wasps. If you find more than usual visits of wasps in your home, there can be a wasp nest nearby.
You can also look for chewed wood, as wasps use wood fabric to build their nests.
You can also look for wasp nests in the dark and damp corners of your walls, pipelines, and rooftops.
If you find such wasp infestation in your home, get the professional Bee Wasp Removal Brisbane experts on the job.
Why Seek Professional Help For Wasp Treatment?
Professional help is not a luxury but a necessity if you have wasp nests around you unless you are a professional yourself. You may not also have the special clothes required while removing a wasp nest. The danger of getting stung by the wasps is always present and wasps attack together when they sense any danger. That can be very lethal for you and you may even end up in a hospital. It is actually for your own safety that you contact the best professionals to help you get rid of wasps and wasp nests.
Have You Discovered Bees Infestation In Your Brisbane Property? Call Us To Remove Them Immediately!
Bees are important for the ecosystem and environment, but at the same time, no homeowner or commercial property will ever encourage beehives on the premises. These nasty flies are not good, because they sting whenever they feel threats around. Their venom and dangerous stings can be really painful, therefore people look for exterminators and expert Bee Wasp Removal in Brisbane. If you want to remove the beehives from the property, then experts are perfect to deal with your problem. You can call Goode Pest Control Brisbane today. We have a team of professional experts, who are going to get rid of beehives or move those hives from the premises appropriately.
The professionals have in-depth knowledge, advanced techniques, and effective methods; which are helpful to remove bees from the surroundings. However, the experts have proper guidelines and techniques to move the beehives safely from their existing place. The materials and methods with appropriate cleaning and removal control methods have very less impact on individuals and pets as well. Do you want to book professional bee removal near me, then don't bother? It's easy to contact us, call on 0488 851 508 immediately to get righteous and quick solutions.
Steps We Use To Treat Wasps In Brisbane
Here are a few steps our professionals use to treat and control wasps. Let us have a look now.
Inspection– The first thing our Bee Wasp Removal Brisbane professionals use is to inspect your property well to find out whether our home is infested or not. This step is also important to identify the wasp type and treat it accordingly.
Treatment plan and methods– Now, after the inspection is over, our professionals create a roadmap for the removal of the wasps. This includes the machines and chemicals that we are going to use.
Wasp control and relocation– In this step, we treat the wasps and remove their nest from your home. They are very important for the environment and thus we do not hurt the nest and take all possible methods to relocate it well.
Follow-up treatment– After the treatment is done, our experts perform a few follow-up checkups to ensure that your home is not facing the same wasp infestation problem again.
Why Choose Experts From Goode Pest Control?
Well, there are a lot of wasp-removing companies in the market, but why should you choose Goode Pest Control? Here are a few benefits you will enjoy after selecting us for the job. Have a look.
Reliability– We are not newbies in this field and have served numerous clients to date. Thus, you can trust our esteemed services for your wasp-removing work.
Skilled experts– We are proud to work with some of the top skilled and experienced professionals in this field. They know exactly how to remove the wasps safely and this makes our work perfect.
Emergency work– We understand that you may need emergency wasp control and removal in Brisbane service. We are here to serve you 24*7 and our experts will be there to help you immediately.
Follow-up checkups– We offer follow-up checkups to all our customers so that they do not have to face such trouble again.
Environment friendly– We understand that bees and wasps are very important for nature and thus do not destroy their nests after removing them. We safely relocate their nests and help nature in this process.
Keeping Wasp-Free Homes In Brisbane
Call Goode Pest Control today at 0488 851 508 or follow the steps to submit the contact us form to discuss a solution for your wasp issues. We respond quickly every day.
FAQs on Bee Wasp Removal Brisbane
How Much Do I Need To Pay For Bee Control?
You need to know that the bee removal service charges according to the services required. Also understand that the cost of removing bees from the house charges according to different situations and conditions, damages, and everything caused by bees.
How Do I Contact Bee Control Service?
There is no need to worry when it comes to contacting the bee control service. You can make the contact through the phone number given on the website. The contact number is perfect because this is the best and most convenient way to deal with the problems.
What to do for Bee Hive Relocation? 
You do not worry about the bee hive relocation. You can search for the best and most professional bee removal service near me, which is going to serve with best within affordable bee removal cost.