Overview About The Rats, Rodents And Mice
Rats and mice are responsible for spreading diseases in your house. Moreover, rats and mice can contaminate your food. On the other hand, rodents carry ticks and fleas with them. And with this, rodents also spread serious diseases to your house. Moreover, rodents are native to the United States. Nevertheless, many non-rodent species are referred to as non-native to the United States. Apart from this rats and mice are also common in all of Australia too.
Professional Rodent, Rat And Mice Removal Service In Melbourne
Rodents, rats and mice are serious problems in Australian houses. Thus, your home is the main attraction for rodents. As there are many food sources for rodents, rats and mice. Are your house is infesting with rodents?
Do you want to have a professional rodent control service in Melbourne? Goode Pest Control have certified experts for rodent pest control Melbourne. Every year many people suffer from water damage at their houses. Therefore, to avoid this problem hire our rat control service.
We use eco-friendly solutions for eliminating rodents from your house. Moreover, we use modern tools for controlling the rats and mice. Hence, contact us at (0488 851 508) for the best service.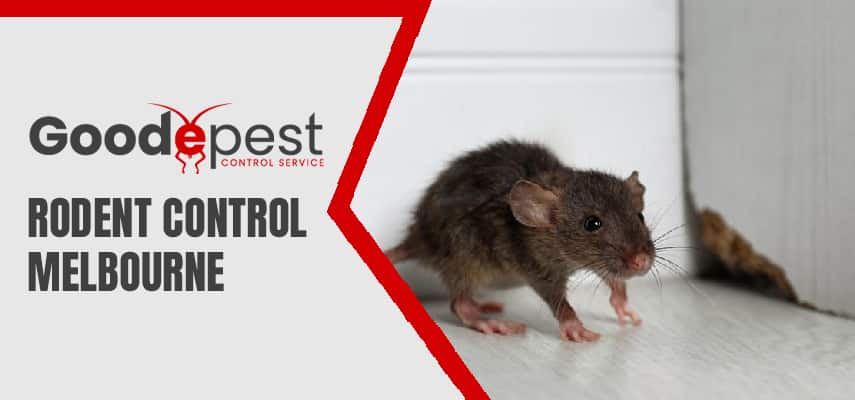 Some Common Health Problems Cause Due To Rats And Mice
Rats and mice are commonly known as destructive pets. Moreover, rats and mice have even been considered safety hazard pests. Further, rat bites can even cause allergies and swelling in your body. In addition, rats and mice droppings can spread disease to you. Following are some health issues caused due to rats and mice:
Bubonic plague
Fever
Leptospirosis
Hantavirus
Pulmonary fever
Trichinosis
Jaundice and many more
Professional Checklist For Rats And Mice Infestation
Our Professional Rat control Melbourne team offers one of the best pest control and removal services. Moreover, we discuss some professional checklists for rat and mouse infestation prevention. Thus some of the points to consider are:
Keep your pets and your food in an airtight container or glass jars
Put the leftover food in the container. Simply spills the leftover food immediately
Remove the standing water from your property
Tightly cover your trash cans
Check and seal up the entry and existing points of your house.
Decrease the food sources for rats and mice from your premise
Eliminate the nesting areas from your garden
Moreover, contact our experts for the finest mice control Melbourne.
Hire Our Rodent Exterminator To Make Your Work Easy!
Are you tired of seeing the increasing population of rodents? Do you think rats are causing health problems in your family? Don't worry just hire us for the best rodent control service. Moreover, contact us for the following rat removal Melbourne.
Rat Pest Control Service: Rats create a nuisance at your house. Moreover, commonly famous for spreading plague disease. Don't worry hire our rat exterminator for immediate control.
Mice Pest Control Service: Are you facing a mice infestation at your house? Well, we know how mice can be harmful to your pipeworks. Therefore, hire our pest control Melbourne mice service. We remove the mice infestation from your place on the same day as the booking!
Safe Rat Removal Service: We know and understand the importance of your and your family's safety. Therefore we use organic and less-toxic solutions and control methods for rats.
Mouse Control Service: For a mouse-free house hire our mouse control service. Even we have experienced experts in controlling mouse infestation.
Why Choose Us For The Rodents Control Service?
Our rodent control team focuses on offering superior service to the customers. Moreover, we are renowned for providing the finest rodent control service in Melbourne. Thus following are some methods for hiring our service:
Licensed and experienced experts
Same day rodent control service
Stress-free rodent removal service
Local rodent exterminator
Customer-friendly service
Get Service From The Leading Rodent Control Company In Melbourne
Melbourne is the most rodent-infested place. So, it is common that you can find a variety of rodent species in your house. Well, we all know how difficult it is to control the nuisance of rodents. But we must tell you that we have certified experts for controlling rodents. Even we follow many standards and techniques which make us the preferred company for rodent control. Our rodent company is also famous for offering same-day rodent control service. Therefore, contact our professionals for immediate control.
How Do Our Professionals Control Rodents At Your Place?
Inspection: Once you contact our mice exterminator Melbourne, we will reach your place immediately. Further, we start processing the rodent inspection. In the inspection, we check the level of infestation and the damage caused to the property.
Removal Plan: Based on the inspection, we make an effective treatment plan for rodents. Thus, our treatment plan depends on various factors such as the outcome and timeline of the service etc.
Extermination: We will be using both physical and chemical methods for eliminating rodents. Thus some of the common rodent control methods we use are trapping, fumigation and glue boards.
Prevention Advice: Our experts also discuss some prevention advice with you. Hence prevention advice includes:

Clean the food on the floor
Pets' food in an air-tight container
Regular inspection of your house
Seal up the entry points
Now Avail of Our Rat Control Services In All Of Melbourne
We serve Melbourne wide. Here is the list of rodents we remove:
Brown rat control and removal: Brown rat is one of the most common pests found in residential properties. Feel free to contact us for quick treatment.
Black rat control and removal: Black rats have a similar appearance to brown rats. Moreover, black rats are slimmer and have longer tails. Count on us anytime for black rat control service.
Norway Rat control and removal: Norway rats are sometimes also referred to as brown rats.Moreover, Norway rats are normally larger than the roof rat. Well, you can hire our Norway rat control service in all suburbs of Melbourne.
Roof rat control and removal-wide: Roof rats are famous for their climbing techniques. Moreover, roof rats have the largest tail of other species.
FAQs – Rodent Control Melbourne
Rodent Control Melbourne
Call us at 0488 851 508 Rodent Control Melbourne
Location: Melbourne, VIC, 3000, Australia