Efficacious Moth Control Inspection And Treatment In Melbourne!
Moths can affect an individual's health aspects and also cause some property damage though. If you notice moth infestation signs on your property, then take assistance from the professional Moth Removal Treatment Melbourne service as soon as possible. If the moths caused some damage, that's no big problem at all. Our professionals will eradicate all the pests with the Moth Removal Treatment service. Welcome to our company, and find long-term solutions for pest control services. We have certified team members, and they perform tasks with the best possible solutions. Goode Pest Control can free your property from moth infestation with the best techniques and methods. To connect with the righteous solutions, you can connect with us through 0488 851 508. Give us a call and connect for the booking.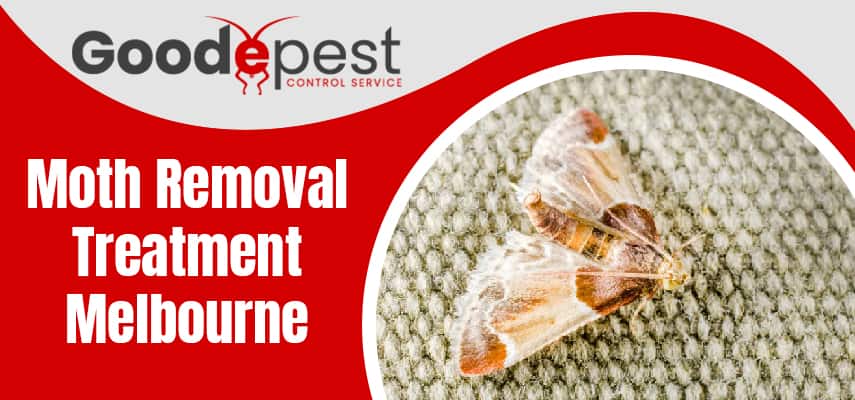 Moth Species and Signs Of Infestation
Brown house moths: These moths feed on seeds, grains, starches, and flours. They have brown heads and thrive in high temperatures very well. If your pantry items are shattered or seem fed on by the pests, you can estimate that these are brown house moths. Hire a professional moth exterminator for the control ASAP.
Mediterranean flour moth: These pests love to feed on grain and flour only. You can find them in warm areas, where you have stored bakery or grain products. These moths reproduce the entire year. Also, the moths get infested in the grains, which are consumed by humans causing several problems, allergies, and infections to individuals.
Pantry moth: Pantry moths used to pay eggs on different food items. If you find an adult moth on your property, which means you have a moth infestation in your property. The pests enter your premises from windows, vents, doors, and other entry points. Get pantry moths exterminated immediately, otherwise, they will infect the surroundings and cause health hazards as well.
Case-making clothes moth: These moths are 7-8 mm in length, and have a wingspan of 10-15 mm in length. You can discover these pests around clothing chests, under mattresses, closets, linen baskets, etc.
Luna moth: Luna Moths are also the most beautiful species of moths, and even most activated at night. These are rarely found during day time. These moths are like a wooded environment.
White moth: White moths damage crops. One has to eradicate these moths promptly. These moths are most active during the afternoon and night time.
Several Damages Caused By Moths To Your Property
Moth's infestation is just not right at all. These are not only dangerous to one's property but also harmful to cause health hazards. When we talk about economic or financial loss; moths leave holes in clothes, blankets, furniture, and wood in the home. Hairs and lint attract all these pests. However, moths can affect the attic and walls though. However, the carpet moths are very small, which causes such problems. Therefore, get done with the carpet moth control service ASAP.
Also, there are some health hazards caused by these nasty pests. They are allergic and infectious; which can irritate the skin, create rashes on the skin, respiratory problems, and other health hazards. So call the moth caterpillar control services instantly and talk with them to protect your family, pets, and property as well.
Process We Follow For Moth Control Services Across Melbourne
There is a certain process; which the professional moth control Melbourne service follows up:
Moth Inspection: The professionals start with an inspection to know, where the moth is infested, what's the source, which moths have infested your property, which treatment is right and effective for the pest control carpet moths service, and other things related to the moth infested in your property.
Specific Chemical Treatment: Once the inspection is done, then the professionals will start with the required chemical treatment for the moth control and removal process. Although, they will do proper sanitization for keeping the infested area healthy and hygienic.
Moth Prevention Advice: When the process of inspection and treatment is done, then the experts will give some prevention advice to the clients. This prevention advice is mandated to follow to prevent moths.
Moth Control Company In Melbourne: Serve In The Residential and Commercial Clients All
Moths can infest any property; residential, commercial, and all kinds of properties. You can have it all, and there's no need to worry about anything. If the moths have infested the attic, nearby windows, or closet; then, this will be easily dealt with by Moth Removal Treatment Melbourne.
On the other hand, if the moths have infested the commercial property; these are harmful to the employees as well. Here you can take help from professional moth control in-house or commercial properties; the professionals will deal with them all.
Emergency Moth Control Service In Melbourne: Excellent Treatment For Home and Carpet Moth Treatment
Carpet moths are not good for the property and other things as well. If you see a heavy carpet moth infestation on your property, then immediately contact the carpet moth extermination service. The experts will do righteous service and be able to remove every last pest moth from your property with the best possible treatments and solutions. The professionals will use eco-friendly, non-toxic, and pesticide-free solutions; which help to exterminate all the moths from the property. However, the professional Moth Removal Treatment Melbourne follows up with an inspection for the moth infestation. They have the best solutions, techniques, and methods to eliminate moths from the property.
Why Our Company Is Best For Moth Infestation Problem?
There are several reasons, which prove that our Moth Removal Treatment Melbourne service. Here the reasons are listed right below:
Certified Moth Control Solutions: All the team members in our company are trained and skilled. They all are certified, which means they have the right techniques, methods, and solutions for moth extermination.
Available in Emergency: If moths have infested and created multiple problems; then connect with us instantly. You can coordinate with our specialists in emergency, and they will be at your doorstep on short notice though.
Cost-Effective Service: Some people think that moth control Melbourne service is an expensive deal. There's nothing like it. Our professional service is available at the right and affordable cost and maintained in a high-quality and well-standardized way.
Local Team To Serve: The experts belong to the local ground of Melbourne, so they will be available anytime you ask.
Follow-Up Effective Treatment: The professionals will do an inspection to check, which treatment is more effective according to the condition caused. Therefore, they will be serving with the best service possible.
Service Available In All Locations: Get Experts Assistance Anywhere in Melbourne
The experts are based on local grounds in Melbourne. Therefore, we can attend to clients' needs anytime and anywhere. You can call us, and the expert moth control Melbourne service will be available within 30 minutes minimum. Whether you need professional assistance in the city or outskirts nearby; we will be available to all.
FAQ's
How immediately can a moth inspection happen in the house?
When you call our experts; they will be available on your property as soon as possible for the inspection first to check what's the condition and which treatment is right. After inspection; treatment will start at the moment.
Which moths can infest things?
There are different kinds of moths like; carpet moths, pantry moths, white moths, luna moths, and others. Every species has its favourite place to hide and infest. The professionals will tell you the exact infestation or hide-out place.
What is the duration of treatment for moths?
The time taken for moth treatment completely depends upon the requirement and which kind of infestation happened on your property.
What can I do to prepare my place before the moth control?
The professionals will come to inspect, and they will suggest what needs to be done prior before the treatment starts over. Do as the experts say for getting an effective and satisfying treatment done.
How important are preventive measures after a treatment?
Preventive measures are very important to follow; otherwise, this will create problems and allow the moths to infest you once again on your property.