Book Our Experts For The Dead Possum Removal In Perth
Once you see the possum infestation at your property, then you have only two choices, either to deal with them. And the second one is to remove them from your place quickly. Our Dead Possum Removal Perth team understands that it should be taken away from your place. Moreover, a possum is territorial and can return to your home very easily. Moreover, in Australia possums are marked as a protected species under the Wildlife Act of 1975. Goode Pest Control has reliable experts for dealing with large possum infestations.
Even we provide all the other pest and Dead Possum Removal services at affordable rates. Moreover, we even offer safe, effective and efficient Dead Possum Removal services in Perth. Hence call us at 0488 851 508 for removing different types of possums.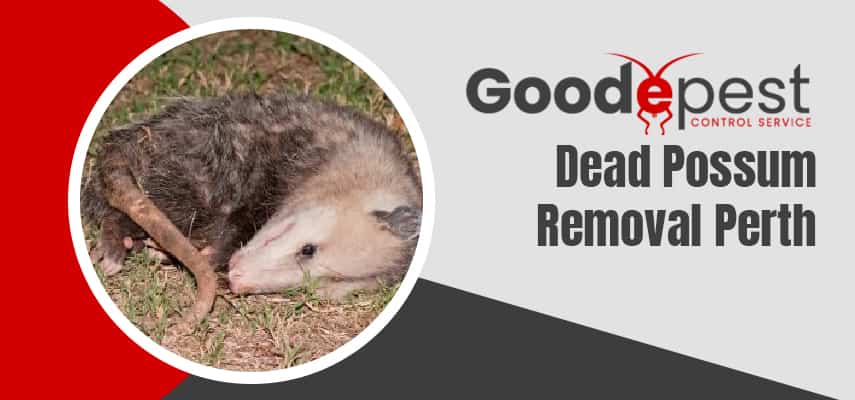 Why Choose Us For Dead Possum Removal Service In Perth?
To make themselves safe from rats or any other pest, possums hide or are trapped in the roof. Most of the time you can see the possum behind the wall or you can even see dead possums at your place. Well, you can easily find live and dead possums at your house. As your property will witness a foul smell inside your house for two months. Furthermore, you will even see flies and bacteria on your property. Thus, our Dead Possum Removal Perth team is 24/7 available and even provides the best outcome for the service.
Nevertheless, for your safety, we use safe and modern technologies. Also, we use safe and reliable solutions for eliminating the possum from your space. In addition, after the completion of the process, we even sanitize the place for removing the bad odour. So, if you are wishing to remove the possum from your place, contact us quickly. Thus we will be very happy to serve you with affordable prices.
Characteristics That Set Our Dead Possum Removal Service Apart
Emergency And Same-Day Dead Possum Removal Service In Perth
Years Of Experience in Removing Possums
Provide Safe Dead Possum Removal Services
Offer Customer Satisfaction With Our Reliable Service
Our Experts Use The Latest Tools for Possum Control
We have Certified IICR Possum Exterminators
Covers Every Suburb of Perth
Process We Follow For Dead Possum Removal Service In Perth
To remove a possum from your property we follow effective procedures. Thus following are some effective procedures:
Firstly, remove the possum which is trapped in the roof
Even take out the possum from your house chimneys
We also remove the deadly possum from your place
Take away or Eliminate rats from your property
Offer environmental Dead Possum Removal service
Why Should You Choose Professionals For Dead Possum Removal Service In Perth?
Pests like the possum are very dangerous. Everyone is aware that the presence of possums is very difficult as they make weird noises on your house roof. Hence, it is very hard to sleep at your house with these types of noises. However, remember that possums are normally active during the nighttime. Well, it's very hard to catch the possum on its own. Therefore, for removing the possum we suggest you hire experts. As the experts have the required knowledge and even have skills to deal with possums. Hence hiring experts will be very safe for you.
Further possums have bacteria and spread serious diseases. When the Dead Possum Removal process is done by professionals they follow the sanitisation method too. Thus with this professional even eliminate other germs and diseases from your place. Moreover, while hiring professionals for Dead Possum Removal make sure they are trained and certified. Apart from this, hire our possum catcher for controlling them effectively. In short, we will help you to restore your premise from possum infestation.
Tips For Putting The Possum Away From Your Place
We suggest some of the following points for stopping possums to make nests at your house.
It is very important to cut the long branches in your garden if any. As well all known possums are famous for climbing and these branches will be helpful for them.
Seal up the cracks or any gaps in your property tiles. You should be careful during the storm as possums will enter your property through the above gaps.
Put some fake nesting boxes near your surrounding house trees. As this will attract possums to make their shelter in the nesting box.
Are you planning to hire a Dead Possum Removal service in Perth? Hire our possum trapper for the best work. We find a detailed evaluation of the problem. Moreover, we make an effective and detailed approach for the Dead Possum Removal service. Also after eliminating the possum we seal the entry and existing points at your house.
Different Pest Control & Removal Services We Offer
Moth Control
Cockroach Control
Wasp Removal
Dead Possum Removal
Bed Bug Control
Termite Control
Borer Control
Flea Control
Ant Control
Rodent Control